Simplify Shipping and Inventory Management with Shipwire
This extension is a full-featured integration for Shipwire, including real-time shipping rates, automatic order fulfillment processing, and live inventory / tracking updates.
Easily display real-time shipping quotes from Shipwire to your customers during checkout, then automatically export orders to Shipwire after they've been processed. Inventory and order tracking information are updated automatically when pushed from Shipwire. Tracking information is available on the Edit Order page to see the status of every order placed.

Shipwire Integration Features
Show real-time shipping rates directly from Shipwire
Supports split orders so you can manage some or all products via Shipwire
Select which countries to use for automatic order export to Shipwire
Opt to automatically export paid orders to Shipwire for fulfillment and shipment
Option to automatically update inventory and tracking information on a recurring basis (i.e. every 5 minutes)
See order and tracking information for every order right on the Edit Order page
Customers will see tracking information in the account section and "order completed" emails NEW
Automatically receive email if an order fails to export or encounters an issue that prevents it from being shipped.
Optionally add handling fees per item if an order contains more than one item
Cancels orders in Shipwire when cancelled in WooCommerce NEW
Supports processing Shipwire returns within WooCommerce NEW
Supports serial number scanning for electronics sellers NEW
Real-Time Shipping Rates
There's no need for UPS or FedEx extensions with Shipwire; simply enable the built-in shipping method and your customers will see real-time shipping rates. You can enable the optional delivery estimates to show customers when their shipment might arrive.
Selling expensive items that require tracking? No problem, you can require shipping rates to have tracking and/or delivery confirmation included.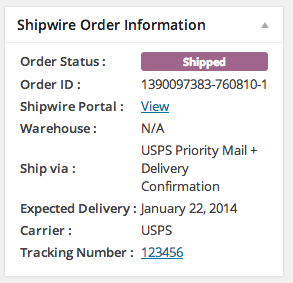 Since split-orders are supported, if the cart contains some products managed by Shipwire, the real-time rates will be used for that shipment, and your WooCommerce rates will be used for shipments of non-managed items.
Automatic Order Fulfillment
Orders can be automatically exported to Shipwire as soon as payment is received, or you can manually export orders with a single click. A separate Shipwire order status is assigned to each order to help you manage your fulfillment process, and bulk order actions are available to export multiple orders at once. If an order has a problem (an invalid address, for example), you can check the order notes to see exactly went wrong.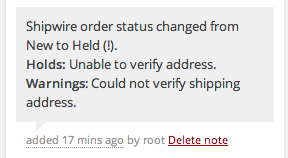 You can even sync returned items back to Shipwire if you need to process a return for a customer from within your WooCommerce dashboard.
Automatic Inventory / Tracking Updates
Product inventory is automatically updated when new inventory is added to Shipwre so you always have the most up-to-date stock amounts. Just received new inventory in Shipwire? No problem — it should be updated on your site right away. You can also update inventory for a single product or all products at any time with just one click and a recurring schedule periodically checks for any updates there have been missed.
Tracking information for orders is also automatically updated, and checked as a backup on a recurring basis. Shipped orders can be completed automatically to streamline fulfillment workflows. Easily see the tracking information for an individual order and find out when the estimated delivery is.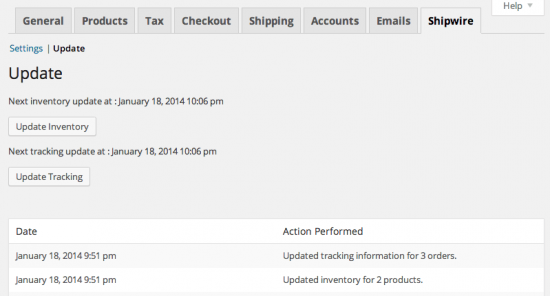 Easy Setup, Powerful Configuration
Follow the steps below to get your WooCommerce store integrated with Shipwire. It's fast and easy. There's comprehensive documentation available to walk you through the setup process and explain all the different settings. Still have questions? Just submit a support ticket and our WooNinjas will gladly help.
How to Get Started
Buy this extension 🙂
Download and install into your WooCommerce store
Login to your Shipwire account (sign up for a free trial of Shipwire if you don't already have an account) and grab your API Username/Password
Save this information on the settings page and setup your products
That's it! Sit back and enjoy automated shipping and inventory management!
Need any more reason to buy? When you purchase a SkyVerge-developed extension, you're getting the highest quality extensions for your WooCommerce store. Gain peace of mind by knowing that when you purchase our products, your store's performance is as important to us as it is to you.