Why pay for different WooCommerce grouped products plugins when Chained Products can handle the majority of these – bundles, composites, assemblies, packages…in a way that increases cart success. Choose the main product, chain products to it and create custom product bundles that customers can't deny.
---
This product bundles plugin has been the top choice for thousands of stores for a decade due to its simplicity and flexibility. Here's how it works:
Store owners "chain" (add) as many products as they like (with different quantities if needed) with an existing or new product. Let's call this the "main" product.
When a customer buys this "main" product, they pay the "main" product's price but get all the "chained" products automatically. They will also see "chained" products in the cart and in their order. The chained products can be priced individually as well. For example, a laptop is your main product; a wireless mouse, keyguard, cleaning kit, and extended warranty are chained to it.
Chained Products plugin seamlessly handles variable products, subscriptions, multi-level nested offers, pricing, virtual product access and discount application. It's compatible with WooCommerce Subscriptions, Smart Coupons and popular themes.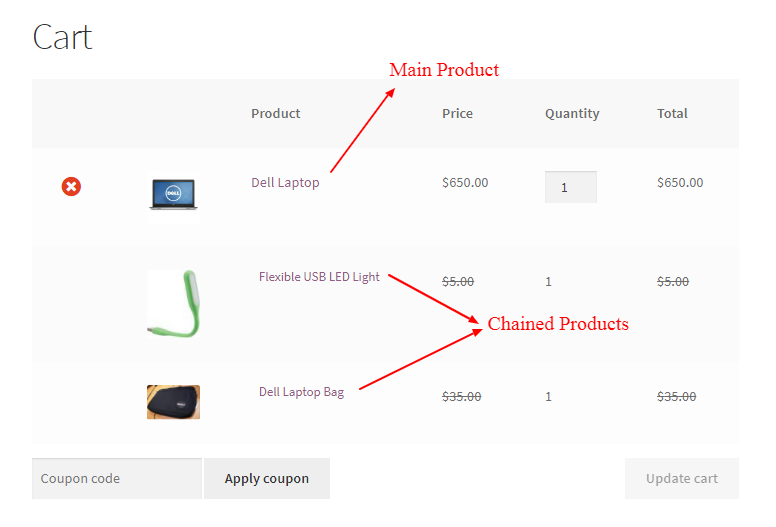 ---
Use proven product bundling strategies to grow average order value and clear up inventory
Packaged deals and discounted combo products are usually the top-selling items for any WooCommerce store. Selling a set of related products together at a lower total price makes for a great offer. Your revenues grow and you also clear up pending inventory.
Here are the top features and benefits of this plugin:
Zero configuration (and no confusion) for customers
Chained products are pre-configured product bundles. Your customers can't pick their own variation options or change bundle configuration. This forces them to evaluate "price vs value" rather than get confused about what to pick.
Works with different WooCommerce product types
Simple, variable, subscriptions, virtual & downloadable… the plugin works seamlessly for all product types and also with custom product types. Physical products, digital downloads, memberships… sell them all, in any combination you like.
Pro tip: Create chained products with "related" products or "frequently bought together" items in WooCommerce – and show them as upsells / cross-sells.
Create all sorts of WooCommerce product bundles
Set a price for your main product or configure chained products to be priced individually. Link as many products as you want to create a product bundle. You can pick up variations and even select quantities.
When users add the main product to the cart, the cart will show the main product and all linked products with the prices configured. Zero if priced individually option is disabled else the chained product price.

Configure and show individual chained product prices
The main product price will be kept at zero, and individual chained product prices will sum up to the total bundle price.
Consider a shaving kit bundle. All individual items like brush, razor, cream will be priced individually. The product kit price will be the sum total of individual items.
For users who want to check all individual product prices without browsing each product, this will increase the perceived value of the bundle.

Set up "Buy One Get One" or "Buy One Get More" offers
You can chain a product variation to show a BOGO offer (for instance: a red T-shirt chained to a blue T-shirt) or chain multiple products in multiple quantities to the main product for a Buy One Get More offer (for example, two sets of printer papers + cartridges chained to a printer).
Reuse and nest chained product bundles
Reuse existing bundles, chain a product with itself, mix-and-match different product types in a single bundle. This opens up lots of flexible ways to use the chained product plugin.
For example, you chain a carrying bag with a laptop. But the laptop bag already had a USB hub chained to it. When someone purchases the laptop, they will automatically get all three items for the price of the laptop.

Automatic inventory managed at an individual product level
Inventories are managed at individual chained products and not at the main product level. That means if one of the chained items goes out of stock, customers can't buy the "main" product either. This will save you a lot of customer support and order management hassles!
Customers would also see a message on the chained products page whether that product is available on backorder.
Auto-update "chained" products in previous orders
When you update linked products in the "main" product, Chained Products can automatically add/remove products from historical orders if you want. Works great for club memberships, unlimited digital downloads as well as recurring subscription box bundles.
High performance – does not slow your site
Chained Products does not slow down your site or checkout process. Some of the largest WooCommerce stores use it. The code quality is excellent and you too can rely on it.
Shortcodes, display control, translation
Use the shortcode [chained_products] to display chained products on the product page. You can customize the display of chained products using shortcode attributes.
Show/hide chained items from the cart, cart widget, checkout and order. Very useful when selling assembled items and maintaining their inventory level.
Translate Chained Products in your language using Loco Translate or any other translation plugins
Create hundreds of value-driven bundles that customer's can't deny
Electronics:

Protective carry case with MacBook.
Power adapters chained with high-end Apple and Samsung phones.
Extended warranty with televisions, refrigerators, ACs and microwaves.

Fashion:

Pack of T-shirts as Buy One Get One.
Wedding gown with matching necklace and earrings.
Formal shirts with tie or suit with cufflink.
Extra belt with smart watches.

Furniture:

Living room set that includes a sofa, coffee table, and side tables.
Bedroom set consisting of bed, mattress, dressing table.
Office set of desk, chair, bookshelf, file cabinet.

Sports:

Helmet with bicycle.
Golf kit – bag, clubs, gloves, tees, balls.
Balls with tennis racket or cricket bat.

Stationery and Books:

School set – pencil, eraser, sharpener, scale.
Set of diaries or files.

Beauty and Cosmetics:

Set of lipsticks in three different shades.
Facial cleanser, toner, moisturizer bundled together.

Health and Fitness:

Home gym kit – yoga mat, dumbbells, exercise ball, rope.
Fitness trainer package – workout plan chained to personal training sessions.

Travel & Tourism:

Flights accommodations with hotel.
Car rentals, travel insurance as addons chained to the main travel itinerary.

Food and Beverage:

Breakfast bundle – bread, cheese, fruits, juice, cereals.
Vegan lunch pack – Tofu, brown rice, mixed veggies, fresh fruits and nuts.
Soft drinks with Pizza.

Pets:

Pet care package – food, joint supplements, shampoo, chewing toy.
Travel kit – carrier, food and water bowl, harness, toy.

IT:

Bundle of themes.
Add-ons for plugins.
Web designing + SEO.
Chained Products vs other WooCommerce product bundles plugins
Other plugins allow users to pick and choose add-on product variants or contents of the bundle.
Chained Products lets the store owner decide on exact products and variants in a product bundle, along with their quantity. It allows the admin to decide the price for the entire collection.
The aim of Chained Products is to help you create better product bundles or combos at the best price, that customers can't deny.
---
Words from Chained Products users…
When you read the reviews on this page, here are sentiments that show up consistently.
A very good product to have if you want to sell bundle products.
Works perfectly and the configuration is very simple.
The plugin does exactly what it is supposed to do.
As easy and intuitive as I'd hoped…
Allows us to offer bundles, yet manage individual inventory levels while still providing a wonderful customer experience…
Exemplary support!
---
Any concerns?
Will it work with your plugins? We have mentioned a list of plugins compatible with Chained Products on this page under the 'Compatibility' section.
Will it work with your theme? If your theme declares WooCommerce support, then yes. People have been using Chained Products with all sorts of themes for over seven years. It works wonderfully. We also update it regularly.
Will you get support and assistance? Yes. We have extensive documentation and extremely high-rated support for Chained Products. Do read customer reviews on this page to see what others say about our support.
---
Think about this…
Creating higher value for your customers is the golden rule of business. Offering pre-configured product bundles is proven to increase conversions. Chained Products positively alter customer experience (they don't have to do any configuration/pick combinations), conversion, and revenue. It's not just a plugin, it's your tool to build a better business.
Finally…
Chained Products make it effortless to create and manage pre-selected WooCommerce product bundles. It solves a wide range of needs, is "battle-tested" and top-rated.
Go ahead, buy it with confidence 👍👍👍
---
Need any more reasons to buy? Chained Products is built by StoreApps, a leading Woo.com Extension developer. You can trust you're getting high-quality code backed with first-class support.
Check out our other best-selling and popular plugins on WooCommerce.
---