Effortless Bulk Editing: Manage products, prices, stocks, and variations with ease.
Strategic Product Linking: Boost sales with intuitive upsells and cross-sells.
Powerful Sorting & Filtering: Quickly find products, set sales, and generate SKUs.
Seamless Integrations: Extend functionality with custom fields and advanced options.
---
Bulk Schedule Sales, Update Products, and More in Minutes!
Need a streamlined way to update your products in bulk, manage product variations, or set up sales efficiently? The Bulk Table Editor for WooCommerce is your go-to solution. Whether you're dealing with simple, variable, external products, or subscriptions (including variable), this extension makes bulk operations a breeze.
Key features:
Linked Products Integration: Seamlessly link related products, upsells, and cross-sells in bulk. Strengthen your product network and boost sales.
Product & Variation Updates: Easily modify or update your products and their variations in bulk.
Sales Scheduler: Set up sales events, including specific dates and times.
Real-time Stock & Pricing: Quick adjustments to stock levels and prices, keeping your inventory always accurate.
SKU Generation: Auto-generate or modify SKUs in bulk.
Tagging & Status Updates: Add, manage or modify product tags, and keep product statuses updated.
Detailed Editing: Dive deep with two distinct tables: one focuses on prices, sales, and stock, while the other handles SKUs, tags, statuses, measurements, and more. Plus, effortlessly add, update, or delete product/variation featured images.
Custom Field Support: Easily integrate fields like Wholesale, Name your price, Vendors, and Cost of goods.
Additional Features:
Filter & Export: Tailor your view with filters and have the ability to export as needed.
Integrated Extensions: Works seamlessly with Cost & Reports, Product Vendors, Name Your Price, Cost of goods, and more.
Multi-Language Support: Available in English, French, Spanish, German, and Norwegian.
Simplify and amplify your WooCommerce management tasks with Bulk Table Editor.
Table editors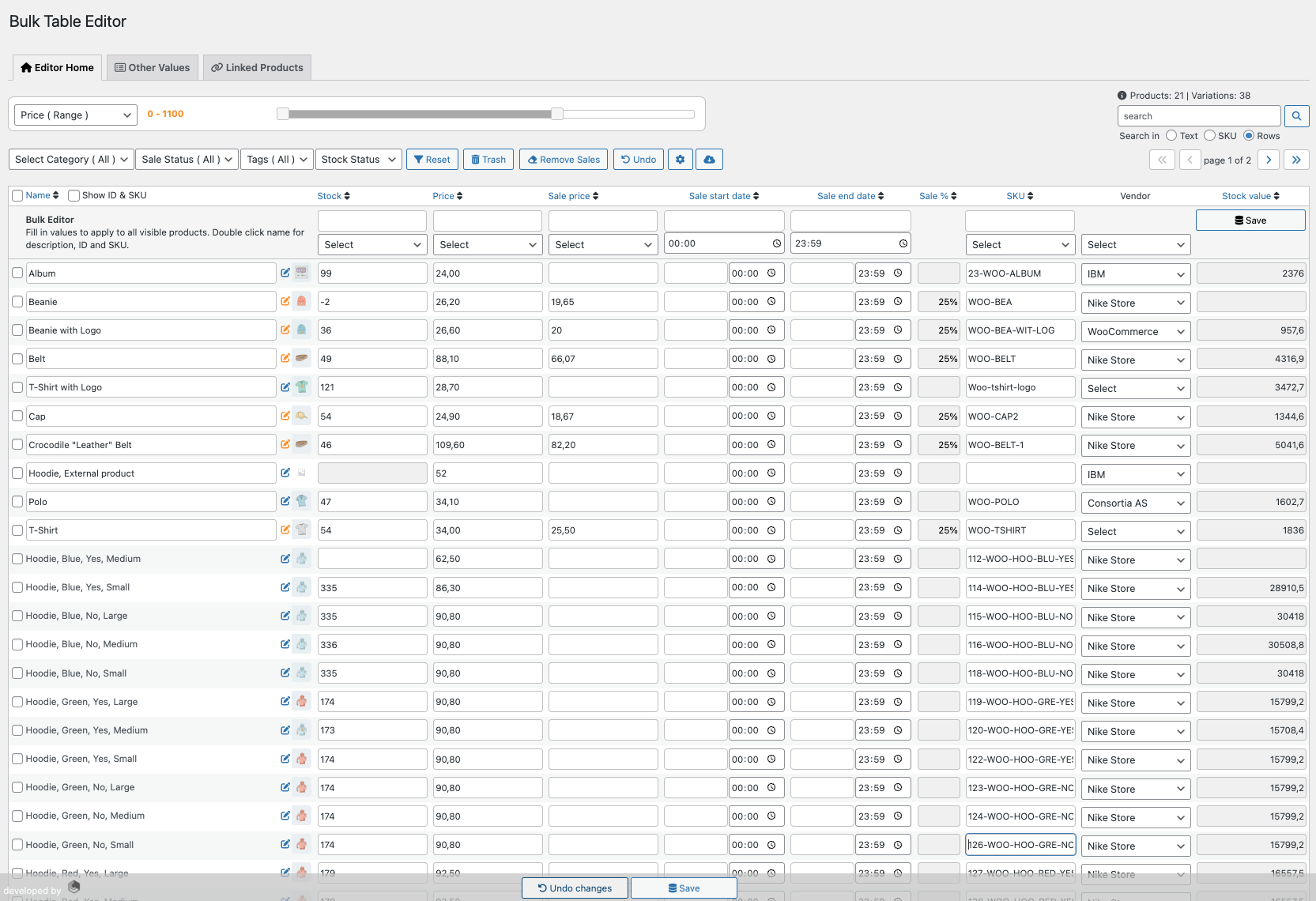 Other values (tab)
Effortlessly Launch Sales with Bulk Table Editor: A Step-by-Step Guide
Setting up sales in Bulk Table Editor is a breeze. Let's say you own a clothing store and want to run a new T-shirt sale. Follow these simple steps:
Go to Editor Home
Select the Category: Choose the category 'T-shirts' from the dropdown menu.
Set the Sale Price: Enter your desired sale price in the bulk function. If you're offering a percentage discount, select 'decrease in percent' from the dropdown box and enter, for example, 20%. Bulk Table Editor will calculate a 20% discount based on your current product pricing and apply it to all T-shirts.
Rounding Options: Need to round your prices? No problem. Utilize the bulk function to choose from available rounding options. For instance, you can round a price from $19.75 to $19.80 with a two-decimal rounding error.
Choose Start and End Dates: Decide when your sale begins and ends. Use the bulk methods to select both start and end dates, and Bulk Table Editor will automatically fill in the rows. You can even set specific start and end times if necessary. If there are products you don't want to include, simply uncheck them and click 'save all.'
Sale Percent Display: The 'Sale Percent' column conveniently displays the percentage discount applied to each product in your sale.
That's it! Your sale is now set up and ready to launch on the start date you've chosen. With Bulk Table Editor, managing sales has never been easier
Easy access Bulk Functions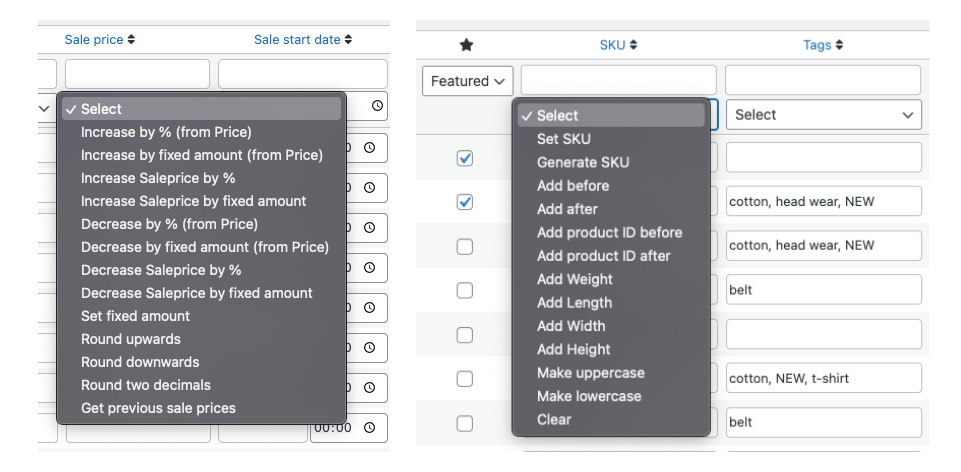 The bulk function menu is easy to use; start by setting a value then select which bulk function you would like to do. Sale price, for example, is based off of regular price when it comes to calculations (20% off would mean a reduction in price of 20% from the base value). Stock and overall price change are also based on their current values. "Set fixed pricing" is used when there are null values or when a selling price needs to be set e.g. a price like 9.99. The round function lets your round your prices up or down to the logical decimal e.g. 19.55 to 19.60. A function to get your previous sale prices is also available in the bulk function for Sale Price, this makes it easy to reuse sale prices.
Unlock Higher Sales Potential with Linked Products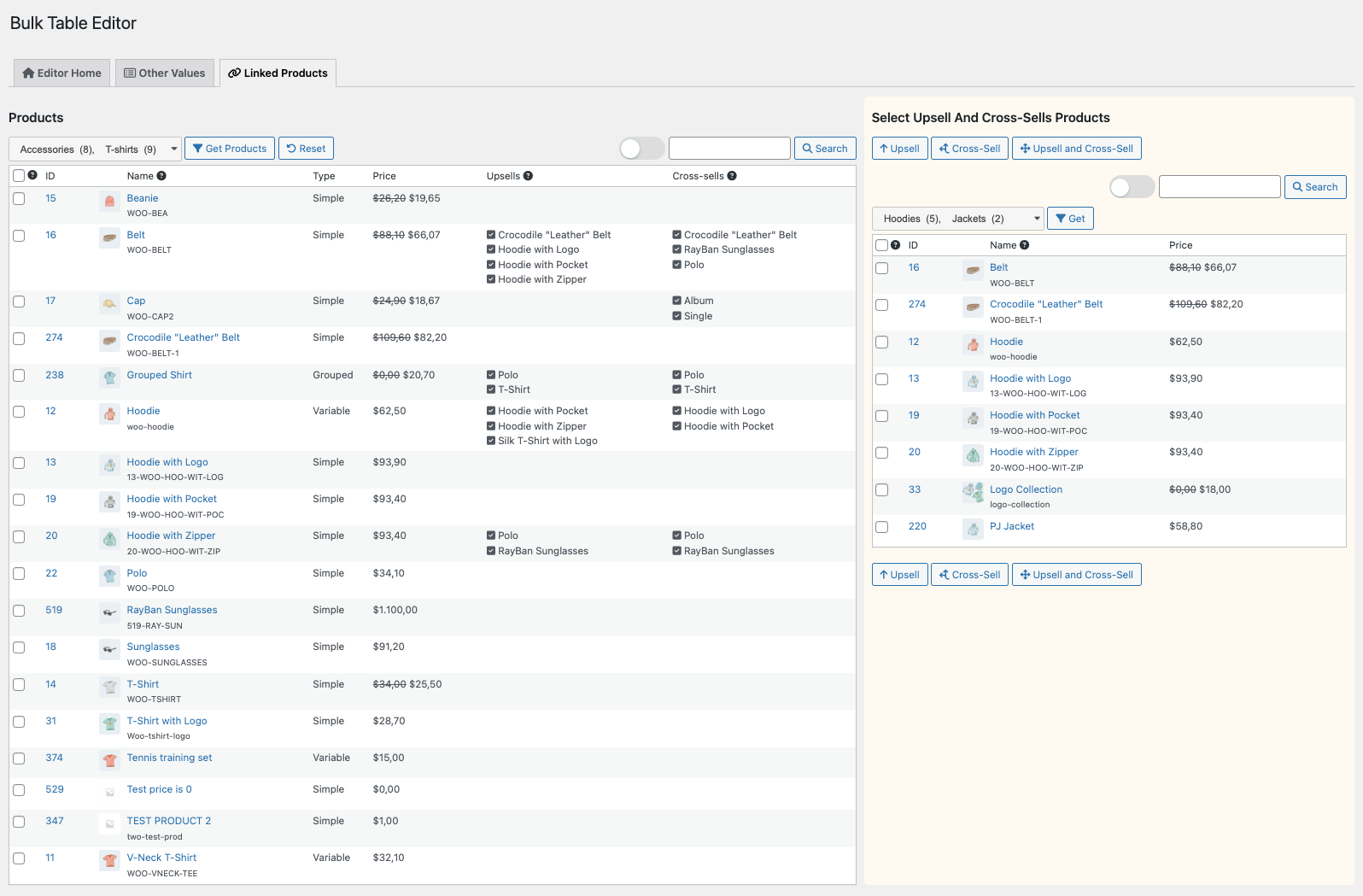 Imagine this common scenario: A customer visits your online store, finds a product they love, and adds it to their cart. Now, here's the opportunity. What if you could effortlessly recommend additional products that complement their selection, leading to increased order values and customer satisfaction?
The Solution:
The Linked Products tab empowers you to create strategic product relationships with ease. Whether it's upselling more profitable items or cross-selling related products, this intuitive tool streamlines the process. No more manual linking or tedious adjustments—just smart, automated suggestions that boost your sales.
Why Upsells and Cross-Sells Matter:
Maximize Revenue: Upsells enable you to suggest higher-priced or more valuable alternatives, increasing your average order value.
Enhance Customer Experience: Cross-sells introduce customers to products that complement their selections, improving their shopping experience.
Increase Cart Conversion: Well-placed upsells and cross-sells can turn browsers into buyers, driving conversion rates.
Customer Loyalty: By recommending relevant products, you demonstrate that you understand your customers' needs, fostering loyalty.
Seize the Opportunity:
Don't let the potential for higher sales slip through your fingers. With Bulk Table Editor's Linked Products tab, you have the tools to strategically guide your customers, enhance their shopping experience, and ultimately, drive more revenue for your WooCommerce store.
Discover the power of upselling and cross-selling the smart way.
Range Filters
Bulk Table Editor's range filters allow you to easily find and update products within a specific range. For example, you could use the range filter to find all products with a price between $10 and $20, or all products with a stock level between 5 and 10.
Here are some examples of how you can use range filters to bulk edit your products:
Update the prices of all products in a specific category.
Set a sale price for all products with a stock level below a certain threshold.
Mark all out-of-stock products as hidden.
And more!
Range filters are a powerful tool that can help you save time and improve your productivity.
Recurring Sales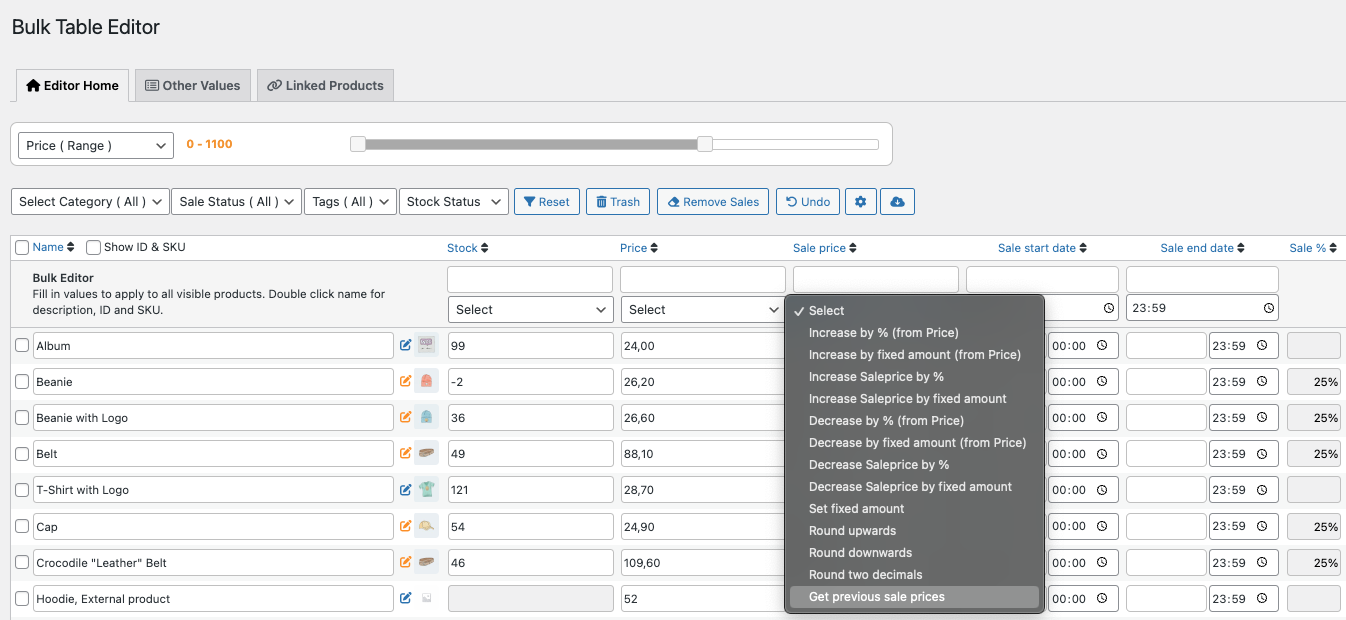 Bulk Table Editor makes it easy to set up and manage recurring sales. Each time you create a sale, the sales price is saved in a historical field. This means you can easily set up new sales with the previous sale prices, without having to manually enter them each time.
To set up a recurring sale, create a new sale and enter the sales price, start date, and end date. Then, check the "Recurring sale" checkbox. Bulk Table Editor will automatically save the sales price in the historical field for the product/variation.
When you're ready to start the next sale, simply edit the previous sale and update the start and end dates. Bulk Table Editor will automatically update the sales price to the historical price.
This can save you a lot of time and hassle, especially if you have a lot of recurring sales.
Export Your Data with Ease
In addition to its powerful bulk editing capabilities, Bulk Table Editor offers a convenient export function. With just a few clicks, you can export your product data as a .csv file. Whether you're keeping backups, conducting in-depth analyses, our export feature simplifies the process, ensuring you have full control over your WooCommerce data.
Discover the efficiency and flexibility of Bulk Table Editor, where managing and exporting your store's information is as effortless as the rest of our comprehensive toolset.