Bulk Category Management: Edit, add, or delete multiple categories seamlessly.
Visual Category Insights: Update category images on the go.
Intuitive Search & Replace: Quickly find and select categories for efficient edits.
Shopper-Centric Filters: Create frontend filters for enhanced product discovery.
---
Master Your WooCommerce Categories with Ease
Efficiency meets simplicity with the Bulk Category Editor. Manage, update, and transform your product categories in bulk without breaking a sweat.
Overwhelmed by Numerous Product Categories?
Glide through them! Our table-style interface showcases every category detail you need at a glance. Color-coded subcategories and on-the-fly description adjustments make category management intuitive, even if you're juggling hundreds or thousands.
Key Features:
Bulk Brilliance: Instantly add, modify, or erase categories. No fuss, just results.
Deep Insights: Get a full view of category IDs, product counts, images, and direct links. Knowledge is power.
Custom Fields: Integrate up to two unique category meta fields for tailored management.
Category Sorting: Organize effortlessly. Move categories up or down to perfect your display.
Inventory Streamlining: Choose products in bulk, then assign, add, or remove their categories seamlessly.
Advanced Product Filters: Elevate your store's frontend. Intuitive category filters, dynamic price ranges, and smart product search mean customers find what they want, faster.
Design Flexibility: Customize labels, colors, and layouts. Hide specific categories. Make your store truly yours.
Data Mastery: Effortless backup, restore, and multi-store management. Transition categories between stores with ease.
Empower your WooCommerce with the Bulk Category Editor. Elevate category management and offer shoppers a refined, streamlined experience.
Efficient Category Management
User-Friendly Category Editor
Transform your approach to managing extensive product catalogs with the Bulk Category Editor. Presented in a table-style layout, it provides a comprehensive view of your product categories, enabling quick modifications to names, descriptions, images, and slugs. Navigate through color-coded subcategories, and enjoy the convenience of toggling descriptions on or off for a streamlined experience.
Add Categories with Ease
The Bulk Category Editor introduces a simplified, efficient process for expanding your product categories. By clicking the "Add Categories" button, a dedicated section becomes visible, allowing you to interact with two distinct forms:
Single Category Addition: Input the category name, description, slug, and parent category (if applicable), and upload a unique image. This form is perfect for those instances when you need to add just one or a few specific categories.
Bulk Category Creation: Located just below the single addition form, this area is designed for rapid expansion. Enter a comma-separated list of category names, select a parent category if necessary, and let the Bulk Category Editor handle the rest. This is an ideal solution for adding multiple categories simultaneously, ensuring efficiency and consistency across your store.
Embrace the power of streamlined category management and swift expansion with Bulk Category Editor, and propel your WooCommerce store to new heights of organization and user-friendliness.
Product Categorization
Intuitive Bulk Category Management
Discover the epitome of efficiency and control in product categorization with the Move Products tab, brought to you by Bulk Category Editor. This feature is meticulously designed to streamline the process of managing product categories in bulk, ensuring precision and saving time.
Seamless Category Selection and Management
Toggle Category View: Initiate your task with ease using the newly introduced toggle option, allowing you to seamlessly show or hide the "Choose from Category" section. This provides a clutter-free space, ensuring you focus only on what's necessary for the task at hand.
Effortless Product Filtering: Dive into the products table, enriched with a detailed list of categories. Each product showcases checkboxes next to its categories, enabling quick and easy removal directly from the list.
Bulk Category Assignment: On the right side the products table, you'll find a comprehensive list of all available categories. With intuitive checkboxes, you can select multiple categories simultaneously.
Versatile Category Actions: Once your products and categories are selected, take advantage of the three responsive buttons provided: Replace Categories, Add Categories, and Delete Categories. These options offer unparalleled flexibility, allowing you to:

Replace Categories: Substitute the existing categories of the selected products with your newly selected categories.
Add Categories: Enhance the category assignment by adding more categories to the selected products.
Delete Categories: Remove the specified categories from the selected products, ensuring your catalog stays updated and relevant.
Embrace the future of WooCommerce product management with Bulk Category Editor's Move Products tab. Transform product categorization from a meticulous task to a swift, straightforward, and enjoyable process. Experience the true power of bulk editing, combined with precision and ease.
Product Filters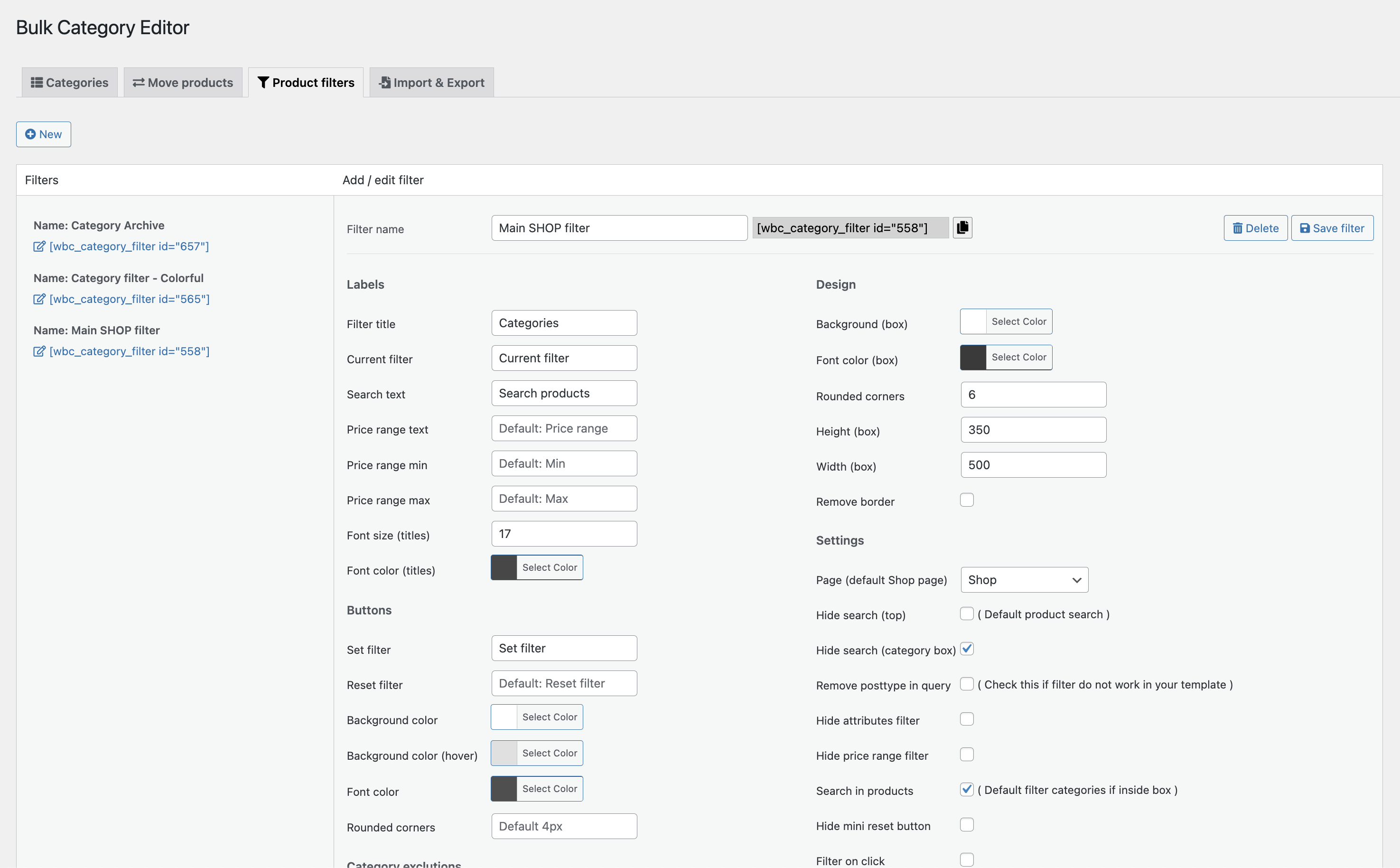 Elevate Shop Navigation with Custom Filters
Harness the power of advanced filtering to provide a seamless shopping experience on your WooCommerce store. Product Filters, an innovative tab in the Bulk Category Editor, allows you to create, update, and manage category and attribute filters with unparalleled ease.
Streamlined Filter Management
User-Friendly Interface: Dive into a straightforward administrative panel, meticulously designed for easy navigation and quick updates. Manage your filters in bulk, ensuring consistency and saving valuable time.
Customization at Your Fingertips: Tailor each filter to suit your store's aesthetics and functionality. Adjust font sizes, pick from a palette of colors, label your filters for clarity, and choose the layout that best fits your site's design.
Refined Control and Visibility: Gain granular control over your filters with options to exclude certain categories, ensuring shoppers only see what's relevant. Utilize advanced query settings to further refine the results, catering to your unique product range and customer preferences.
Effortless Integration: Once your filter is perfected, a simple click copies the shortcode. Embed it effortlessly in your shop templates, whether you're sprucing up your theme's shop page, adding it to a sidebar widget, or integrating it with popular page builders like Elementor.
Rapid Implementation: With the shortcode in hand, you're just a paste away from revolutionizing your shop's navigation. Bring the convenience of advanced filters directly to your customers, enhancing their shopping experience and guiding them seamlessly to their desired products.
Elevate your WooCommerce store with Product Filters, a vital feature of the Bulk Category Editor. Transform the way shoppers interact with your product range, providing them with powerful filters that make shopping intuitive, enjoyable, and efficient. Make your store stand out and watch your customer satisfaction soar.
Example of a filter used in a shop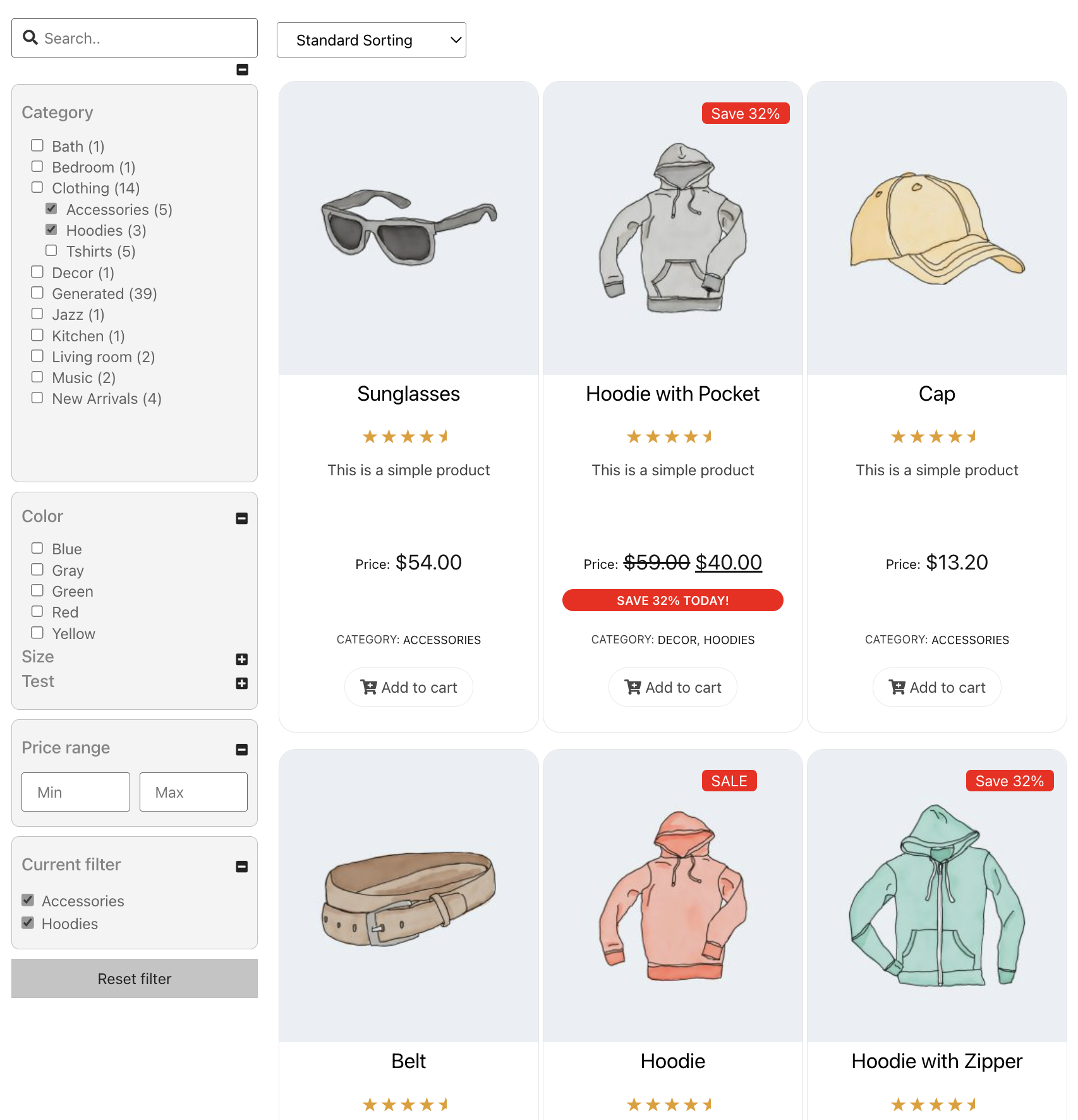 Import & Export
Efficient Category Synchronization Across Stores
Leverage the Import & Export functionality of Bulk Category Editor to streamline your category management across multiple WooCommerce stores. This powerful tool provides a swift and efficient method to synchronize categories, saving time and reducing manual effort.
Effortless Category Transfer
Streamlined Operations: Migrate categories between different WooCommerce installations with ease. Craft a comprehensive .csv file, and with a few clicks, import all your categories directly into the Bulk Category Editor, ready for immediate use.
Backup and Security: Utilize the export feature to create secure backups of your categories, ensuring that you have a reliable copy for restoration or transfer. This function proves invaluable for maintaining data integrity across your WooCommerce stores.
Bulk Edits in a Breeze: Unlock the full potential of spreadsheet programs to edit your categories in bulk. Make extensive changes efficiently, and when you're ready, import the updated file back into the plugin, instantly applying all your modifications.
Unified Category Management: Maintain consistency across all your stores by ensuring that each one operates with the same category structure and settings. Import & Export becomes an indispensable tool for businesses managing multiple WooCommerce installations.
Time-Saving Convenience: Eliminate the tedium of manual category input and updates. The Import & Export feature not only speeds up the process but also reduces the margin of error, ensuring that your categories are accurate, up to date, and uniformly applied across all platforms.
Embark on a journey of seamless category management with the Import & Export tab of Bulk Category Editor. Propel your WooCommerce store towards operational excellence, ensuring that every category is perfectly placed, updated, and synchronized for optimal performance.
Bulk Category Editor is compatible with:
Requirements
Minimum PHP version: 5.2